The last few days, I have been in Brussels to speak at a conference co-organized by EPP and the Greens/EFA groups at the European Parliament, titled "Tools of Freedom". During the few days I spent in Brussels, I have had the chance to meet several MEPs and Eurocrats. Among them were also Alojz Peterle –from the "Friends of Turkey" group, Hannes Swoboda –the leader of Party of the European Socialists, Jerzy Buzek –former president of the European Parliament, Pawel Zalewski –the European Peoples' Party MEP from Poland, and lastly the one and only Pirate Party MEP from the Greens group, Amelia Andersdotter.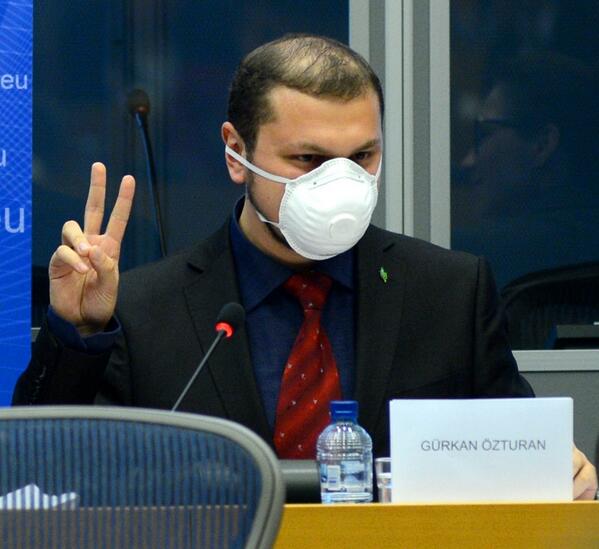 All the meetings have taken place at the European Parliament and all focused specifically on Gezi Park protests with very much concern over the level of freedom of speech, freedom of expression and media freedom in Turkey with the inclusion of possible social media censorship laws. Throughout the meetings main focus has been on the excessive violence against civilians by riot police and government's supporters. The main conclusions that can be derived from the remarks and comments of the officials and non-official people I have talked to can be summarized in a few lines.
The first overall message to be understood was that the protests were seen as a positive outcome of transition and democratization process that has been going on in Turkey for a long time by now. The protests and ability to use liberties and freedoms, there being a general uproar against limits on performing those rights and liberties is perceived as a general positive aspect of the protests that have been kept peaceful and civilian until police intervention disturbs the scene. In general, it is indeed promising to see the civil society in general demanding the Europeanization process to continue and deep reforms to state system take place unlike the top-down reform policies one could see in Turkish politics until recently.
As excessive use of force against peaceful protests was highly criticized and condemned, media was spared a big share of criticism due to massive failure to report anything for days and very little unbiased focus for the weeks to come. As was noted, press freedom in Turkey has been a major obstacle on the way to democratization process and social media's presence and people's involvement with social media has been a big push to come over this problem. However, it was also a part of the discussion that filtering, restricting, limiting access to social media platforms of internet in general would only cause even a bigger reaction from the society and lead to spreading of invented stories or even misinformation.
One other intensively talked subject was the current of protests and their direction in social waves. There were a few people worried about the intentions of some protesters, which I share from time to time as well seeing occasional hateful remarks. But it needed to be clarified that use of hate speech and verbal violence –just like physical violence- is not a tolerated kind of behavior among Gezi Movement crowds across the country. It is a worrisome situation however to still see this, yet as repeated by the respectable people that I have met, it is important that individuals with a more humanistic understanding of the situation and society should make voice of peace and freedoms be heard more than hate speech at any time; and it is not a time to be silent for democratic demands.
I can say I have sensed great encouragement from every single person that I have talked to, and this encouragement has gone hand in hand with many worries concerning the well-being of civilians in Turkey. Yet, as repetitive as it might get, it is important to note that the struggle against a non-democratic state entity is not as risky as fighting against an anti-democratic ruler as it happened to be the case in Arab Springs.
In Brussels, I have not only met people who were curious to get an insight about the Gezi events, but also people critical of Turkey at all times and wanted to cease any relation to country at every opportunity. As a researcher on far right ideologies and political movements, I had to see their reaction to these events in person. I have listened to a few people, critical of Turkey in EU negotiations, talk about how the society in general in Turkey would not wish to see a democratic government and is not part of Europe. This sounded very ignorant of the news of last few weeks as the demands of protesters has always been more in the awe of European spirit and democratic solidarity.
There are many changes cooking in this summer heat, hopefully a big portion of it is democracy and guarantee of further freedoms and liberties for the whole of society. No matter how pessimistic some may have approached the news –and it may still be a better positioning in order to be realistic- the public forums, peaceful protests, intensive use of intellectual means to go around restrictions give hope for a future of real change. Now the problem is spreading of the word; as the notable people have all said, those who defy this movement had made up their minds when they watched the government's propaganda material on mainstream media, and it is best to keep civil, intellectual, peaceful and continue spreading the message of democratic values one by one until everyone learns that only through respect and tolerance towards all, that we can exist all together.
Apart from the meetings with parliament members, I have also had the chance to meet several bloggers who participated in the conference. It has been very enlightening to hear what is still happening in Tunisia, from the "Tunisian girl" Lina ben Mhenni; and learn that it is yet the beginning of democratization process for Tunisia, and there is still great unrest in general society due to authoritarian tendencies of the elected government. As one may understand from the unfortunate resemblances of the situation, it may not always be a democratic outcome from democratic elections and there is long way to go to sustain a better state condition; hopefully very quickly though.
While the meetings and talks have generally been focusing on basic guarantees of human rights and civil liberties, there have also been remarks of Katarzyna Szymielewicz (president of Panoptykon Foundation) and Jarosław Lipszyc (president of Modern Poland Foundation) about ACTA and concerning the protection of personal information and regulating the internet for securing the future of freedom of expression and civic liberties of digital society.
All in all, it was thanks to bloggers that there are such great social movements today in all three countries for different reasons and there is one simple message: people will not allow being stripped off their rights! Once more it is important to repeat:
Big brother should beware of little siblings; they are mobile, they are unorganized and they are interconnected!