One of the best outcomes of international gatherings in world-scale metropolises is new connections and emerging opportunities. The Digitaler Salon in Berlin's Humboldt University is one of those outcomes. While in Berlin someone suggested I pay a visit to the Institute for Internet and Society and introduce myself. I was invited to a very exciting and informative event organized by the Institute. On the evening of October 29th, Digitaler Salon was held with the participation of three very successful experts from academia, journalism and blogging. The topic was Crisis Reporting with the comments of Christoph Sydow of Al Sharq, Thomas Wiegold, a journalist who covers defense and military policies, and Dr. Johanna Roering, a media researcher focusing on propaganda at Tübingen University.
Out of my habit of not being able to rely on punctuality and effectiveness of public transport in many countries and cities, I left before the agreed time and arrived at the venue earlier than expected. The speakers greeted me and we started talking about the day's topic, crisis and war reporting and the involvement of social media and bloggers, and also about how blogs are perceived and how the media are transforming. The discussion took place at the Humboldt Institute for Internet and Society, located right at the Bebelplatz, facing the infamous "book burning memorial" that was erected at the place where thousands of books were burnt in 1933, May 10.
The pre-discussion of course had a tendency to turn towards news from Turkey, as there was one particular participant in the audience who had brought much news from Istanbul to their attention previously. So talk began revolving around the level of press freedom, the number of journalists who have lost their jobs, government control over what gets published, and even controversial accidents journalists have had. As there was a professor present who focuses on "propaganda and media," the 6,000 "social media experts" the Turkish government has hired were also mentioned in the context of manipulating media focus and online discussions. This is a negative example of the use of digital tools for journalistic purposes.
After a few pretzels and some wine, the the actual session was ready to start. The coordinators were ready, cameras were rolling and everyone took seats in a very cozy atmosphere. Greetings were exchanged and participants were welcomed, and the talks began. While the topic in general was issues of reliability and verification of the news—comparing the limited resources of many bloggers to newsrooms' advanced networks and resources—there was a special focus on media pluralism and press freedom in countries where there seem to be problems with freedom of expression and press freedom.
Verification Problems
It is an undeniable argument that bloggers lack the resources or the ability to build networks as reliable as the mainstream media. Yet verification has many levels and tools these days. A very useful book, Verification Handbook, supplies a lot of information not only for newbie bloggers but also old-school journalists who might need further help. The book is being translated into several languages. Also, it is important not to have high expectations of bloggers and citizen journalists who mostly run their pages on a voluntary basis, unlike profit-oriented media outlets. Yet a blog post from the ground can also guide the professional journalist who might otherwise be unable to grasp the issue from the outside. In the end, real news should be a fine balance between what we see on the blogosphere and print (traditional) media.
What happens under governmental pressure?
When it comes to international news, and especially news related to defense strategies, the military, and security, it is true that traditional journalists have better connections and sources for supplying reliable information from the ground; however when the type of news changes to national scale, then the balance might be disturbed a little. At the Digitaler Salon the main focus of the discussion was on defense and military related news. But the situation in the streets in Hungary, for example, was being reflected in a completely different way the traditional media there and by bloggers during the same week. That could be a perfect example of what might go wrong with traditional media outlets where there is a lack of media pluralism.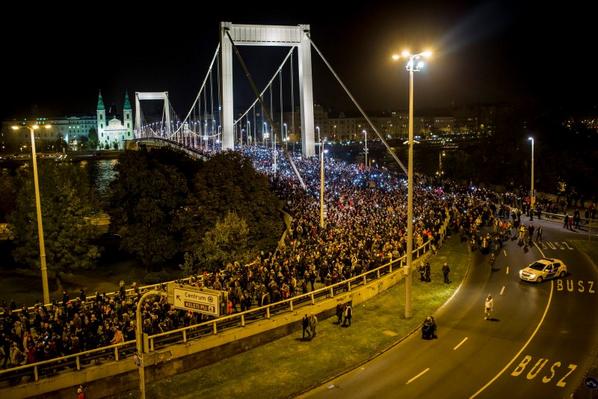 Basically a profit-oriented company that focuses on expanding revenues while trying to reach out to even more buyers/audience, and facing pressure from the national government, would not really reflect the psyche of the streets and would want to continue keeping friendly relations with the authorities. In that case it would only be the independent reporters in the country who might be able to reflect on what's going on there. Yet, if this independent journalist is not an expert of the region or country, or has not spent long enough time to really grasp what is going on, s/he would not be able to give an accurate report of the event. In that case s/he also relies on good contacts who might be able to share more information with the journalist and this happens to be mostly in blog form these days apart from personal conversations.
In a similar fashion the citizen journalists and bloggers might also reflect onto events in too much passion and misinterpret the situation. If the person reporting the news or events is coming from the right in the middle of whatever might be going on, it would probably be hard for the person to give accurate information freed from personal passion, grudge, and all other emotions. Or these reports may be subjected to misinformation and unverified sources that may in fact cause more harm. And one important aspect not to be forgotten is, how to differentiate the citizen journalists from the classical journalists that they complain about; or what to do in order for anyone reporting from a crisis zone to avoid war-fetishism when it comes to reflecting on the pulse of the streets?
Overall, it was an occasion to bring forth the discussions revolving around journalism, media pluralism and press freedom in 21st century. As a final comment, I can say that it was a valuable experience to be able to attend such an occasion and perhaps it could set an example for other parts of Europe to elaborate such discussions, of course in a way that it would serve as more informative from multiple aspects. And in terms of sustaining media pluralism, a more internationalist approach could in fact help covering issues that local authorities might not enjoy seeing be covered.