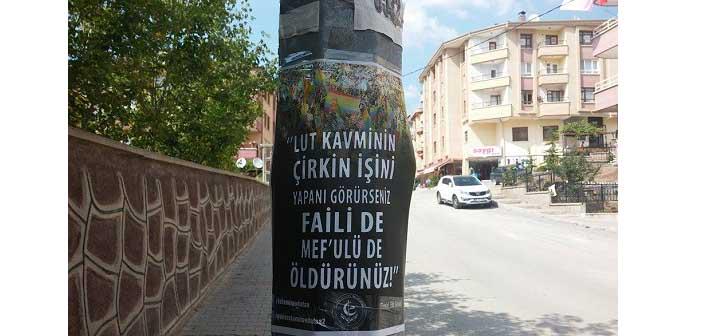 Istanbul's LGBTI parade during the 'Pride Week 2015' had earlier been declared unlawful by the Istanbul Governor. The reason being pride and Islamic holy month of Ramadan's coinciding with each other. Governor's declaration outlawing the pride combined with excessive police violence against the pride-goers, added more flames to already homophobic assessment of the mainstream pro-government media and resulted in boosting of prejudices and homophobia even further in the society.
The reason for the sudden ban was stated to be the parade's coinciding with the holy month of Ramadan. This statement declares a division between the faithful, moral Muslims, and the member and/or supporter of the LGBTI groups, and defines the two camps as two naturally conflicting identities that cannot coexist. Therefore the statement strengthens the preconceived idea of these two identities as two distinct groups and leads to increased tensions between the two groups. The religious reasoning behind the ban has brought about discussions about the "people of Loot", a tribe that was wiped out by Allah in Islamic belief, due to their practice of homosexuality.
Only a week after the events that took place in Istanbul –police intervention to pride-, Ankara-based 'Young Islamic Defense' group hang posters all over the capital, with the following Hadith passage: "Whoever you find doing the deed of the people of Loot, kill them.". This open call for massacre and hate crime is directly targeting the members of the LGBTI groups in Turkey, as the poster has a photo from the previous week's parade in its background.
The group has also posted a manifestation on their website which declares the LGBTI members to be remnants of the Loot tribe that need to be destroyed; therefore encouraging various kinds of hate crimes by justifying them on the grounds of religion.
Even though homosexuality is not conceived as a crime in Turkey, it is not recognized or even referred to, in the laws. In addition, general public awareness of and tolerance towards the LGBTI movement in Turkey is not very high. The state's own interruption against the movement legitimizes these negative views held by the public and provides a freer environment for hate speeches, while turning the members of LGBTI all the more vulnerable against the actions that may result from this atmosphere charged with hate and intolerance.
Written by,
Gökçe Sandal